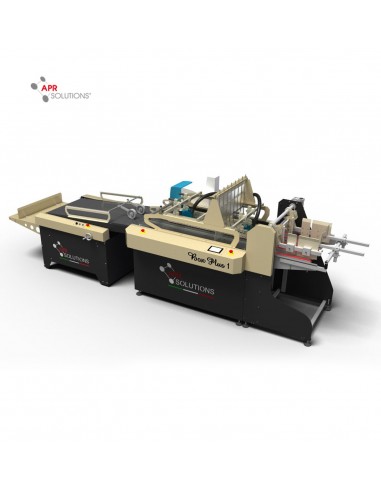  
Box Plus 1
Box Plus 1
Box Plus 1 with Automatic Feeder Plus is a machine designed and manufactured to fold and glue straight-line boxes, and folders with two pockets, envelops, courier envelope with external flap or internal flap and very special envelope size, photo frames and so on.
Box Plus 1, folding and gluing machine composed of:
Full automatic continuous feeder Plus.
Folder flap group, ready to add hot melt gluing system and double-sided tape applicator.
Folding tools with no. 6 transport devices BRUCO with wheels.
Automatic delivery table.
No.1 Hot melt gluing system with no. 1 gun completely managed from the machine's 7-inch touch screen. 
Optional on request:
Movable Tipper Fold Plate Kit
Another RAP Applicator
RAP Strip, Tear Tape Applicator
Automatic feeder
Hi speed Automatic Printed Label Applicator