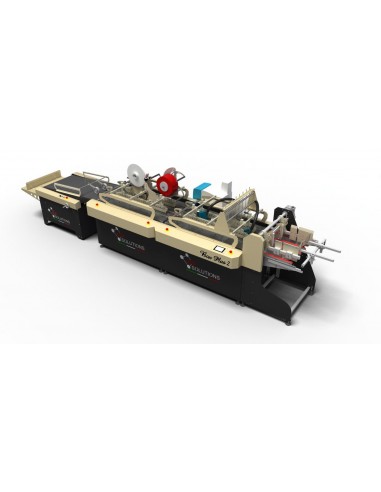  
Box Plus 2
Box Plus 2
Box Plus 2, full automatic folder gluer machine designed to fold and glue straight-line boxes, crash-lock bottom boxes, conical boxes and also envelopes and folders.
by adding one or more of our application of double sided tape , Tear Tape, magnetic tape or silicon tape you convert your folder gluer machine to full automatic tape machine.
Box Plus 2, folding and gluing machine of:
Full automatic continues feeder (Feeder Plus)
Folder flap group with hot melt gluing system
Folding tools with automatic transport devices
Automatic delivery table
all the machine completely managed with the machine's 7 inch the touch screen. 
Machine ready to add
RAP, Double-sided Tape Applicator
RAP Strip, Tear Tape Applicator
Silicon tape applicator
Mag Tape for magnetic application
Inserter
3D System Device
Hi speed Automatic Printed Label Applicator